GIFT CERTIFICATES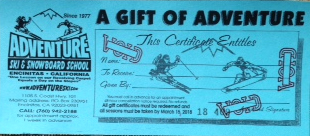 Give a gift of adventure!
A gift certificate for all ages and abilities is available for any number of ski or snowboard lessons, and practice & conditioning sessions. A great gift for holidays, birthdays, or any occasion. 

Maybe you know someone who skis and is thinking of trying something new-- snowboard lessons! Or someone new to the snow; or someone who already knows how to ski or snowboard, and would like to improve their technique and/or strengthen and condition their specific muscles they use in these snow sports! Everyone can benefit from a gift certificate for lessons and lesson programs on the revolving carpet at Adventure Ski & Snowboard School. 
To purchase a gift certificate, please choose from options below:
ONLINE with CREDIT CARD: Click blue Purchase Now button below.
BY MAIL: Send your personal or company check or money order AND a self, stamped addressed envelope (legal size) with a note including :
-Name of person gift cert is for;
-number of lessons &/or practice and conditioning sessions;
-Ski OR Snowboard? (IF you know; if not they can tell us when they call for appt.)
Mail to us at:
Adventure Ski & Snowboard School
P.O. Box 230951
Encinitas, CA 92023-0951
We will make out and mail the gift cert to you the same day we receive your S.A.S.E. and payment. It usually takes only 3-5 days round-trip.
IN PERSON: Come to our facility (see map for directions) when we are open (call first, as our hours change due to seasonal demand for lessons).
You are welcome to pay by cash or check.
Purchase Now