NEWS & ADVICE
ONE LEG STANDING EXERCISE
Click on a photo for PDF of how & why to do the 30 second exercise
Pre-Season AND In-Season Conditioning Exercise - click here
To avoid that feeling of sore, tired legs on the day after your revolving carpet lessons/workouts, and even more importantly, in the morning of the second day on your vacation, try adding the exercise below to your pre-season AND in-season conditioning routine.
Hold on to a chair, table, wall, tree or almost anything else with one hand for balance. Stand on one leg with your knee bent approximately 30 degrees (1/3), which is about 4 to 6 inches forward of your toes under your forward bent knee (NOTE CENTER PHOTO ABOVE). Hold this position without moving for approximately 15-30 seconds at first. Gradually increase the time 5-15 seconds every few days, until you can hold the position for 2 minutes. Repeat this exercise at least 3 times per day on each leg.
Benefits:
You are strengthening your quadriceps muscle group- one of the most active muscles used in skiing and snowboarding. The one that burns sometimes halfway down a long run down the mountain, and/or halfway through a lesson on our revolving carpet.
You are establishing good muscle memory by reinforcing a forward flexed position, similar to the one in skiing & snowboarding.
You will also increase your skill of balance, as balance, like all skills, will improve with practice. A lot of the time in skiing & snowboarding we balance most of our weight on one foot or the other. This simple exercise will help improve your skill at balancing on one foot, which should help improve your balance while in motion on skis & snowboards.
Bonus Benefit:
As you will perform this exercise on both legs, notice on which leg do you balance easier/better??
Did you ever wonder why you can turn one way easier/better than the other (left vs. right)??
We all have a dominant side that has more balance and is stronger (ie. left handed vs. right handed dominance). With practice and quality mileage, we can minimize the difference.
Try performing this exercise for 8 weeks (minimum) doing at least twice as many repetitions per day more on your weaker side. (6x per day on weaker leg AND 3x per day on more balanced leg)
After 8 weeks, check your balance on each leg. Notice any improvement?
Now, take it to the mountain!! I hope this snow season is your best!!!
POWDER, DEC 2017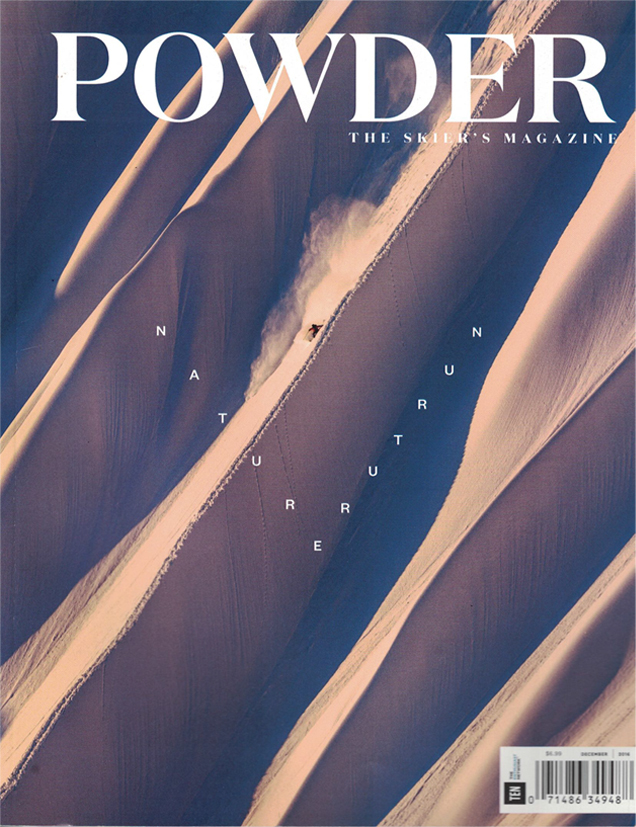 ENCINITAS LIFE MAGAZINE, February 2014
Click on cover below to see entire February 2014 issue of "Encinitas Life" magazine.
Click on article pages below to read the text of article.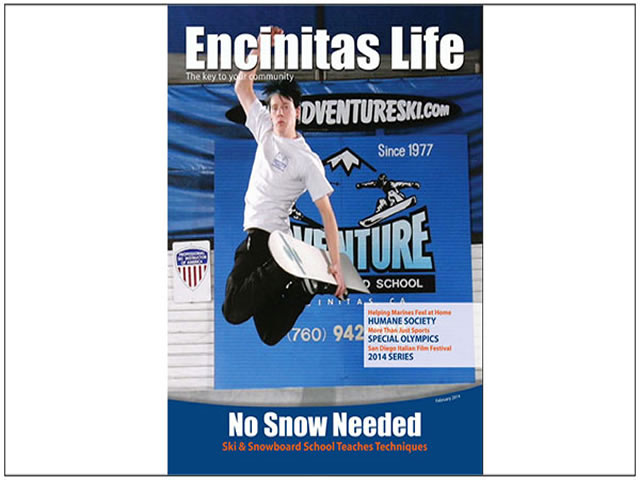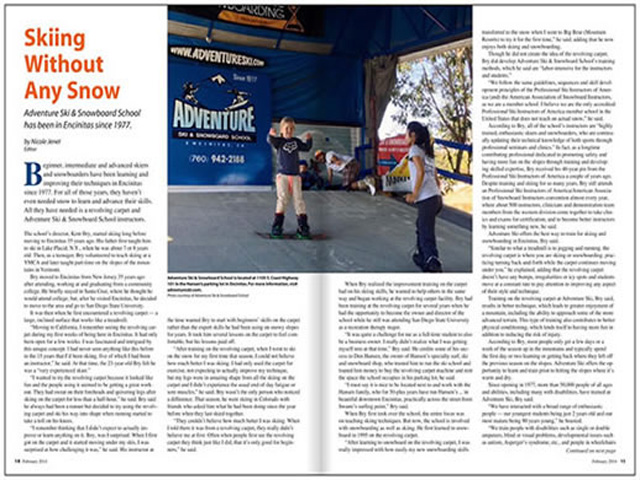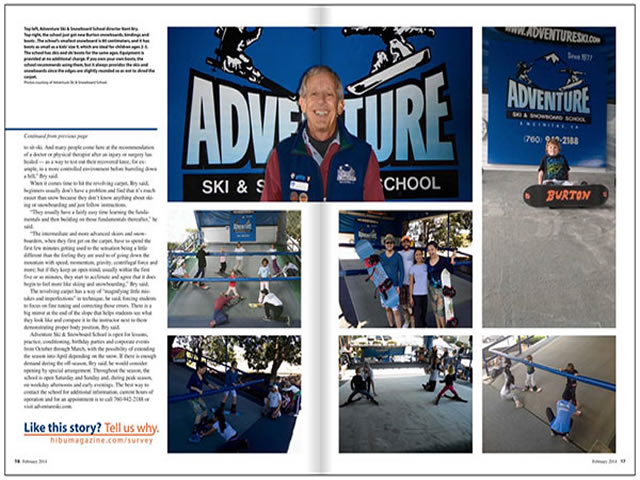 Skiing Without Any Snow
Adventure Ski & Snowboard School has been Encinitas since 1977.
Beginner, intermediate and advanced skiers and snowboarders have been learning and improving their techniques in Encinitas since 1977. For all of those years, they haven't even needed snow to learn and advance their skills. All they have needed is a revolving carpet and Adventure Ski & Snowboard School instructors.
The school's director, Kent Bry, started skiing long before moving to Encinitas 35+ years ago. His father first taught him to ski in Lake Placid, N.Y., when he was about 7 or 8 years old. Then, as a teenager, Bry volunteered to teach skiing at a YMCA and later taught part-time on the slopes of the mountains in Vermont.
Bry moved to Encinitas from New Jersey 35 years ago after attending, working at and graduating from a community college. He briefly stayed in Santa Cruz, where he thought he would attend college, but after he visited Encinitas, he decided to move to the area to go to San Diego State University. It was then when he first encountered a revolving carpet --- a large, inclined surface that works like a treadmill.
"Moving to California, I remember seeing the revolving carpet during my first weeks of being here in Encinitas. It had only been open for a few weeks. I was fascinated and intrigued by this unique concept. I had never seen anything like this before in the 15 years that I'd been skiing, five of which I had been an instructor," he said. At that time, the 23-year-old Bry felt he was a "very experienced skier."
"I wanted to try the revolving carpet because it looked like fun and the people using it seemed to be getting a great workout. They had sweat on their foreheads and quivering legs after skiing on the carpet for less than a half-hour," he said. Bry said he always had been a runner but decided to try using the revolving carpet and ski his way into shape when running started to take a toll on his knees.
"I remember thinking that I didn't expect to actually improve or learn anything on it. Boy, was I surprised. When I first got on the carpet and it started moving under my skis, I was surprised at how challenging it was," he said. His instructor at the time wanted Bry to start with beginners' skills on the carpet rather than the expert skills he had been using on snowy slopes for years. It took him several lessons on the carpet to feel comfortable, but his lessons paid off.
"After training on the revolving carpet, when I went to ski on the snow for my first time that season, I could not believe how much better I was skiing. I had only used the carpet for exercise, not expecting to actually improve my technique, but my legs were in amazing shape from all the skiing on the carpet and I didn't experience the usual end-of-day fatigue or sore muscles," he said. Bry wasn't the only person who noticed a difference. That season, he went skiing in Colorado with friends who asked him what he had been doing since the year before when they last skied together?
"They couldn't believe how much better I was skiing. When I told them it was from a revolving carpet, they really didn't believe me at first. Often when people first see the revolving carpet they think just like I did, that it's only good for beginners," he said.
When Bry realized the improvement training on the carpet had on his skiing skills, he wanted to help others in the same way and began working at the revolving carpet facility. Bry had been teaching at the revolving carpet for several years when he had the opportunity to become the owner and director of the school while he still was attending San Diego State University as a Recreation Therapy major.
"It was quite a challenge for me as a full-time student to also be a business owner. I really didn't realize what I was getting myself into at that time," Bry said. He credits some of his success to Don Hansen, the owner of Hansen's specialty surf, ski and snowboard shop, who trusted him to run the ski school and loaned him money to buy the revolving carpet machine and rent the space the school occupies in his parking lot, he said.
"I must say it is nice to be located next to and work with the Hansen family, who for 50-plus years have run Hansen's … in beautiful downtown Encinitas, practically across the street from Swami's surfing point," Bry said.
When Bry first took over the school, the entire focus was on teaching skiing techniques. But now, the school is involved with snowboarding as well as skiing. He first learned to snowboard in 1995 on the revolving carpet.
"After learning to snowboard on the revolving carpet, I was really impressed with how easily my new snowboarding skills transferred to the snow when I went to Big Bear (Mountain Resorts) to try it for the first time," he said, adding that he now enjoys both skiing and snowboarding.
Though he did not create the idea of the revolving carpet, Bry did develop Adventure Ski & Snowboard School's training methods, which he said are "labor-intensive for the instructors and student."
"We follow the same guidelines, sequences and skill development principles of the Professional Ski Instructors of America (and) the American Association of Snowboard Instructors, as we are a member school. I believe we are the only accredited Professional Ski Instructors of America member school in the United States that does not teach on actual snow," he said.
According to Bry, all of the school's instructors are "highly trained, enthusiastic skiers and snowboarders, who are continually updating their technical knowledge of both sports through professional seminars and clinics," In fact, as a longtime contributing professional dedicated to promoting safety and having more fun on the slope through training and developing skilled expertise, Bry received his 40-year pin from the Professional Ski Instructors of America a couple of years ago. Despite training and skiing for so many years, Bry still attends a Professional Ski Instructors of America/American Association of Snowboard Instructors Convention almost every year, where about 500 instructors, clinicians and demonstration team members from the Western division come together to take clinics and exams for certification, and to become better instructors by learning something new, he said.
Adventure Ski offers the best way to train for skiing and snowboarding in Encinitas, Bry said.
"Similar to what a treadmill is to jogging and running, the revolving carpet is where you are skiing or snowboarding, practicing turning back-and-forth while the carpet continues moving under you," he explained, adding that the revolving carpet doesn't have any bumps, irregularities or icy spots and students move at a constant rate to pay attention to improving any aspect of their style and technique.
Training on the revolving carpet at Adventure Ski, Bry said, results in better technique, which leads to greater enjoyment of a mountain, including the ability to approach some of the more advanced terrain. This type of training also contributes to better physical conditioning, which lends itself to having more fun in addition to reducing the risk of injury.
According to Bry, most people only get a few days or a week of the season up in the mountains and they typically spend the first day or two learning or getting back where they left off the previous season on the slopes. Adventure Ski offers the opportunity to learn and train prior to hitting the slopes where it's warm and dry.
Since opening in 1977, more than 50,000 people of all ages and abilities, including many with disabilities, have trained at Adventure Ski, Bry said.
"We have interacted with a broad range of enthusiastic people --- our youngest students being just 2 years old and our most mature being 90 years young," he boasted.
"We train people with disabilities such as single or double amputees, blind or visual problems, developmental issues such as autism, Asperger's syndrome, etc., and people in wheelchairs to sit-ski. And many people come here at the recommendation of a doctor or physical therapist after an injury or surgery has healed --- as a way to test out their recovered knee, for example, in a more controlled environment before barreling down a hill," Bry said.
When it comes time to hit the revolving carpet, Bry said beginners usually don't have a problem and find that it's much easier than snow because they don't know anything about skiing or snowboarding and just follow instruction. "They usually have a fairly easy time learning the fundamentals and then building on those fundamentals thereafter," he said.
"The intermediate and more advanced skiers and snowboarders, when they first get on the carpet, have to spend the first few minutes getting used to the sensation being a little different than the feeling they are used to of going down the mountain with speed, momentum, gravity, centrifugal force and more; but if they keep an open mind, usually within the first five or so minutes, they start to acclimate and agree that it does begin to feel more like skiing and snowboarding," Bry said.
The revolving carpet has a way of "magnifying little mistakes and imperfections" in technique, he said, forcing students to focus on fine tuning and correcting those errors. There is a big mirror at the end of the slope that helps students see what they look like and compare it to the instructor next to them demonstrating proper body position, Bry said.
Adventure Ski & Snowboard School is open for lessons, practice, conditioning, birthday parties and corporate events from October through March, with the possibility of extending the season into April depending on the snow. If there is enough demand during the off-season, Bry said, he would consider opening by special arrangement. Throughout the season the school is usually open on Saturday and Sunday, and during peak season, on weekday afternoons and early evenings. The best way to contact the school for additional information, current hours of operation and for an appointment is to call 760-942-2188 or visit www.adventureski.com.
Skiers learn all the right moves-- inside- as decks provide a fast track for beginners.
BY STU CAMPBELL
For more than 30 years, thousands of beginners have been learning to ski at an astounding rate. They do it 12 months a year in the downtown areas of such cities as Baltimore, Chicago, and Seattle. They do it in climate-controlled stores, malls, and health clubs. in shorts and T-shirts. in front of mirrors. Always on a perfectly groomed slope.
How do these beginners manage to do all this? They do it "on the deck"- to be precise, on revolving treadmills that are adjustable for both speed and slope pitch. Over the years, ski decks have not received a lot of attention or respect. This is partly because decks simply aren't as sexy as a powder run through evergreen on a real mountain. Further, most ski professionals and members of the press live in snowbelt cities and easily ski their fill on the real thing, so why waste time on skiing that's seemingly unreal?
For their own part, deck skiers tend to be self-effacing. They're almost apologetic about their accelerated progress, afraid they have somehow cheated, and their fears are often abetted by "real" ski instructors, some of whom can be downright scornful of deck-obtained knowledge. For the life of me, I can't figure out what's wrong with learning to ski in "laboratory" conditions-free of interruptions like lift rides, no distracting variables like wind, cold, intense sun or icy spots. Can anyone improve on that?
There are more than two dozen ski decks in the U.S. and most teach the graduated length method (GLM), in which you start on short skis with Teflon bases that slide easily on the revolving surface and as you become more skillful, move up to longer skis.
I spent a whole day on a ski deck last summer at Aspen Hills Racquet and Fitness Center in Silver Spring, MD. I initially caught a lot of edges, and found I needed to apply a bit more steering torque to the ski and a bit less edge. Otherwise, I found that the carpet feels remarkably like packed powder, and since the carpet-- not the skier moves-- the skier can stay in one place. This allows the instructor to stay right at the student's elbow, coaching constantly. If the student falls, or gets into any trouble at all, the deck can be shut down instantly by a remote control the instructor carries. While considered a beginner's domain, decks are also well-suited to advanced skiers serious about refining their skills. A deck, for instance, is a good place to learn the rudiments of the carved turn because of the infinite opportunities for repetition and ideal carving "terrain".
With a never ending trail and no time spent on lifts, ski decks afford the skier so many turns in such a short time that lessons at an indoor training center are often sold in half- hour blocks-as opposed to the multiple hour sessions on snow. These deck lessons cost about half as much as instruction in a regular ski school. What's more, the fee includes rental skis. There is no travel expense and no initial investment in clothing or accessories.
As for technique, "Any deck student should be able to make a parallel turn with a pole plant after six hours of private instruction," says Patricia Karnick, an ex-freestyle champion, certified on-snow instructor, organizer and trainer at 15 different ski decks in this country. "Some schools actually guarantee that you'll progress to a certain level in a given time-or your money back," says Brian Rock, president of the Professional Ski Deck Instructors Association (PSDIA). For years belittled and unaccepted by their on-snow counterparts, deck instructors recently banded together to form the PSDIA. They have adopted teaching methods similar to the American Teaching System developed by the Professional Ski Instructors of America (PSIA). Many deck teachers also become certified on snow. PSDIA has quickly become an organization which rivals the larger on-snow teachers' group, if not in membership and budget, then in credibility and teaching skills. In the last year PSIA has recognized and adopted PSDIA as the official deck skiing arm of the national ski instructors' association.
Last April deck pioneer Karnick organized Ambassador Week, a deck instructors' symposium at Jackson Hole, Wyo. Deck teachers and students who had never been on a real mountain were invited to a clinic on the transition from carpet to snow. One participant, Frank Gloss, spent his first 40 or 50 ski days on a deck in Atlanta, eventually became a deck instructor, and now teaches skiing at Jackson Hole. "Any deck experience is better than none at all," says Gloss. Sure there are some inexperienced people still teaching on decks, but you find those people teaching at ski resorts, too. "Deck students tend to be strong when they come to the mountain. They're already familiar with ski equipment, and know how to steer, skid and transfer weight. They may sit back at first, and often need help with edging and pressuring the outside ski, as well as finishing the turn. These are small adjustments, though, and overall the typical deck skier is off and running almost immediately. He's light-years ahead of other beginners."
Heather Hanson, a 21 year old manager of a cosmetic department in a Baton Rouge, LA., department store, with three to four hours of deck instruction under her belt, was typical of the 26 deck to snow students I observed at Jackson's Ambassador Week.
Because I felt comfortable on my skis," says Hanson," I could get on and off the lifts right away and could stop immediately. I could do a wedge and even a sort of parallel turn. After about an hour of transition I could ski intermediate runs without much trouble."
Skiing indoors on a deck may not be as sexy as flying down a mountain in bracing air under a brilliant sun, but no one-- not even the most ardent deck advocate-- pretends that decks are a substitute for skiing. You don't use a deck to replace the mountain, but to prepare for it. So if you're getting back on skis after a layoff, breaking through a learning barring, rehabilitating an injury, or simply trying to stay sharp between ski trips, do it on the deck.
By Ben Brown , USA TODAY , November 1, 1990
Skiers who've worked out on decks in anticipation of vacation trips to snow country enjoy a bonus: an SILVER SPRING, Md.- With snow still a month away in most of the USA's ski resorts, the closest thing to skiable slopes might be 35 or so revolving carpets in ski and fitness centers across the USA. No bumps, no ice, no lift ticket. And if you plan ahead, no aching back and sore legs when you finally head to the real mountains.
In one form or another, ski decks have been around for 20 years. They're giant, slanted treadmills with commercial grade carpet running over turbine-driven rollers. In the beginning, they were used as demo gimmicks at trade shows. But the newer ones are more powerful and versatile, some with variable pitch and speed controls to match training needs of everyone from beginners to expert racers.
To reduce friction on the carpet, ski bottoms are inlaid with a slicker surface than they'd have in snow. The boots are the same, and more important, so is the technique.
Kimm Swezey, ski school director at the sprawling Aspen Hill Racquet Club and Fitness Canter, has 11 instructors working with 400 students a week on a 25- foot ski deck at a sprawling complex north of Washington, D.C. The big attraction: extreme efficiency.
"What we teach on decks is exactly what we teach on snow," says Swezey, a former racer and a certified on-snow instructor. "But on a deck, I can take a never-ever skier and, in three months, have them at high intermediate levels. That might take 10 years for a typical skier who only gets in snow a couple of weeks a year."
Swezey has 4-year-olds in her program. And she has elderly people, including a woman, 70 who has never skied before and is determined to enjoy Colorado skiing with her family in January. Beginners profit by the personal attention and consistent learning environment. "They aren't distracted or intimidated by the weather or the terrain and can concentrate on learning,'' says Swezey. Intermediate skiers and experts use the decks to tune form and correct bad habits. "They've improved my technical ability 100 percent," says Laura Smith, who had been skiing for 22 years before coming to Aspen Hill in August to prepare for amateur racing. "I thought, based on all my years skiing, I was an expert. I got on the deck and couldn't do anything, because I wasn't skiing technically at the expert level."
Swezey's instructors put up to three students at a time on the deck for half-hour sessions. They ski alongside or pull students off for instant corrections. The carpet provides the discipline.
"It's an unforgiving surface," says Swezey. "It doesn't allow for bad habits." Students master technique by exaggerating correct moves.
"Now," says Smith, " I'm skiing with less effort and more knowledge."
When they head out to snow, deck-trained skiers usually need a few runs to get the feel of the faster, easier surface of the real stuff. "We encourage our people who've never been on snow to take a lesson the first day--probably on an intermediate hall," says Swezey.
Skiers who've worked out on decks in anticipation of vacation trips enjoy a bonus: an escape from the soreness and fatigue that takes many vacationers off the mountain they paid to ski.
"My No.1 concern is education," says Swezey. "But conditioning is a natural by-product. Just by training with us, students will get in shape. Nothing will touch 100 percent of the ski muscles like skiing."
For skiers looking to prepare muscles and techniques for the season, the ideal indoor preparation time is three months, says Swezey. One of Aspen Hill' more packages includes six lessons and six practices for $200. "The problem is, people don't start thinking about until it gets cold. I'm always
saying, 'Hey guys, wake up!'"
Contributing: Jennifer Darling
Itching to try snowboarding? Take a magic carpet ride in Encinitas.
THE SAN DIEGO UNION By Valerie Scher
Each year, from September through March, snowboarders enhance their skills at the Adventure Ski & Snowboard School. They teeter. They stop. They glide and, yes, they sometimes fall, all under the watchful guidance of savvy instructors.
What makes the school remarkable is its location. Instead of being situated on snowy slopes, the Encinitas based operation is housed in a tent like structure on an asphalt parking lot off Highway 101, just a few blocks from the ocean.
The artificial mountain, about 18 feet high and 30 feet long, is covered with carpet-a dense wool/nylon blend that has faded from powder blue to nondescript gray over the years of use. The 30-foot-long ramp is angled at 14 degrees, similar to that on a beginner's bunny hill.
When a 15-horsepower motor is switched on, the ramp moves at approximately 5 miles per hour, like a snowboarders version of a treadmill. There's even a padded bar that students can hang to while mastering their moves on the magic carpet.
Snowboarding on carpet may sound like another of Southern California's bizarre aberrations, but school director Kent Bry says it's really helpful.
"We've got a controlled environment-that's what make the difference," says Bry, 47, whose school offers small classes and private lessons to children as well as adults. "It's much easier to acquire the skills and good habits you need for snowboarding and skiing when you're not going fast down a real mountain."
Beginners start on the stationary carpet. And Bry believes that even one lesson can diminish the chances for disappointment, especially for beginners, whose bodies-and egos-- are prone to bruising. After seeing the ease with which champion snowboarders perform aerial feats in TV and movies, they may find that the sport is considerably more challenging than they imagined.
"At first, snowboarding can seem incredibly awkward. That's because when you put your feet into the snowboard, they are in a position that can't move," says Bry, a professional instructor who has taught skiing for 20 years and snowboarding for five, and who still takes snowboarding lessons himself every year.
"You're fooling yourself if you think that you are going to learn enough in only one lesson to go up to the snow and have a really good time," adds the Encinitas resident. "But it's not that hard, once you understand the body positioning."
There's more good news. "After the first few days, snowboarding is easier than skiing," Bry says,. "Skiing takes longer to master. Snowboarding is more difficult in the beginning, but then the learning curve shoots way up."
Founded in 1977 to teach skiing, the school began offering snowboard instruction in 1987 and changed its name to Adventure Ski & Snowboard School (at 1105 S. Coast Highway 101, Encinitas; phone (760) 942-2188) in 1992. Now, snowboarding lessons account for 55 percent of its business.
Bry recommends classes for students ages 8 and up (he thinks skiing is more appropriate and enjoyable for younger children). And he's convinced that anyone can learn, even those who consider themselves champion klutzes.
"It may take longer," he says encouragingly. "But they'll learn".
Skiing tragedies prompt more lessons
Encinitas school teaching winter sport focusing on safety
NORTH COUNTY TIMES By, MARGA KELLOGG
Encinitas-On the artificial slopes of a local ski school, recent skiing tragedies at Aspen and Heavenly Valley have prompted a positive turn.
The demand for training and focus on safety in snow-related sports has soared since the deaths of U.S. Rep. Sonny Bono on Monday and Michael Kennedy on Dec. 31.
I've been on the phone non-stop," said Kent Bry, director of the Adventure Ski & Snowboard School. Bry says calls for lessons have jumped from 15 to 20 a day during what is traditionally his busiest time of the year, to 25 to 30.
Bono and Kennedy, both accomplished skiers, died less than a week apart from head injuries suffered when they hit trees.
While the exact cause of their accidents has been a cause of speculation, Bry believes the time of day was partly to blame and says all skiers should be aware of the hazards of the last run.
"By the end of the day we tend to get tired," he said. "The majority of the accidents on the mountain happen from 2:30 p.m. until closing. People start to get tired. Visibility isn't as good. Snow gets a little harder and icier."
But most important, Bry says, is conditioning and training.
"We have so many people who work 40 hours a week. Sitting at our desks doesn't involve the same muscles as skiing or snowboarding," he said. "We try to go out on vacation and become weekend warriors and find our muscles aren't in the shape they should be."
Bry uses a "deck," a carpeted revolving treadmill, to teach skiers and snowboarders the proper technique.
He also emphasizes strengthening exercises such as shallow knee squats, side-to-side hops and toe raises and stretching exercises for the back, hips and hamstrings.
"I've been skiing for over 30 years and teaching for over 20 and I take lessons every year," Bry said. "I recognize it's important to continue to improve my skills. When I stop improving I think I'll stop skiing."
While helmets are the law for motorcycle riders and children on bicycles, are they something that skiers should be forced to wear?
"I have to be honest, I'll probably give helmets a little more thought now than I ever have," Bry said. I think in regard to skiing we'll probably start to see more of it, but I don't think you can legislate things like that."